Chairman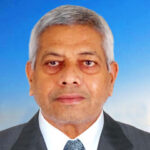 Ram Sakal Ram is an Ex-Judge and former Chairperson of the Juvenile Justice Board. He did his Graduation from the prestigious Langat Singh College, Muzaffarpur and LL.B. from Sri Krishna Jubilee Law College, Muzaffarpur. He got himself enrolled as an advocate in the Bihar State Bar Council in the year 1987 and practised civil as well as criminal side before various forums in the state of Bihar. Known for his undisputed commitments towards the marginalized & weaker sections of society, he fought a number of cases of the downtrodden people pro bono till the time of his selection in the 24th Bihar Judicial Service Examination of the year 1990. After his retirement, with his vision of a more democratic, inclusive, and knowledge-based society, he has founded this research institute. As the President and the Chief Executive Officer of the institution, he is not only directly and indirectly concerned with the conduct of all the activities of the institution but is also the main determinant of its present and future nature through his guidance and intelligence.
Vice – Chairman

Mr. Mukesh Chandra is an Advocate, practicing in the Supreme Court of India at New Delhi and the Managing Editor of Bahishkrit Bharat News Portal. Mr. Chandra, a graduate in Political Science from Jai Prakash University Chapra, has earned his Master's degree in Sociology from Delhi. He has also qualified in the National Eligibility Test-Junior Research Fellowship (NET-JRF) of the University Grants Commission (UGC). Having completed his Law degree from Campus Law Center, University of Delhi, he got himself enrolled with Bar Council of Delhi and started his own practice in Supreme Court of India. Mr. Chandra's field of practice is extremely wide and involves Constitutional Law, Civil Laws, Criminal Law, Administrative Law, Service Law matters and substantial work in Civil rights. He has served as Political advisor / consultant to various political parties of the country for almost two decades. Apart from keeping a close eye on the country's politics, society and judicial system, Mr. Chandra also has a deep inclination towards literature. He regularly writes poetry, story and diary as well as editorial columns on contemporary subjects.
Secretary
Mala Meshram is a social activist, writer, editor, and managing director of the Bahishkrit Bharat News Portal. She has earned her post-graduation degree in social work from Guru Ghasidas University, Bilaspur (Chhattisgarh), and has qualified the National Eligibility Test of UGC with the same subject. Ms. Meshram has worked in many important projects so far in her professional career of 18 years. Some of which are as follows –
Technical Assistant in a major research project of the Indian Council of Social Science Research, New Delhi (2019-2020).
Block Programme Coordinator at (CSR VIPL) Vidharva Power Ltd. Nagpur through SARD New Delhi (2012 to 2014)
Field Investigator in RCH Project DLHS-3 with Taleem Research Foundation, Ahmedabad Gujarat (2007– 2008).
Coordinator with Vasudha Mahila Manch, Bilaspur in Integrated Rural Health Project, sponsored by Danish International Development Agency (2002 to 2005).
Apart from these projects, Mala Meshram has also participated in the training seasons, special camps and workshops of Chhattisgarh Industrial and Technical Consultancy Center, Small Industries Service Institute (Ministry of Small Industries, Government of India), Bharat Aluminum Company Limited, NSS, and RSVY. As a seasoned writer, Mrs. Meshram regularly writes for magazines, journals, and news portal; and has edited three books. In the last five years, she has participated in more than a dozen international and national seminars, symposiums and webinars and has presented her papers on various contemporary issues.
Treasurer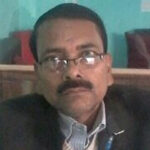 Sheo Sharan Ram is a renowned educationist and social worker. He pursued his post-graduation degree from the Jai Prakash University, Chapra, Bihar. Active in the field of education for more than two decades, Mr. Ram has been trying to connect the children of the disadvantaged sections to the mainstream of society through education. As the treasurer of the society, he is responsible for keeping an account of all the income and expenditure of the institution in proper order and for assessing the financial viability of projects and implementing best practices of accounting.